Element x Millet "Ruff Gripz" article by Place Magazine
A word from Element about this special edition Element x Millet blog.
When the Element and Millet teams went on their fun-finding mission to Portugal earlier in the year, the editorial stylists from Place Magazine in Berlin were also dispatched to document the journey and gain some insight into who these athletes are as human beings. The following article will also be found in the print Element x Millet issue of Place Magazine; available in finer skateshops worldwide.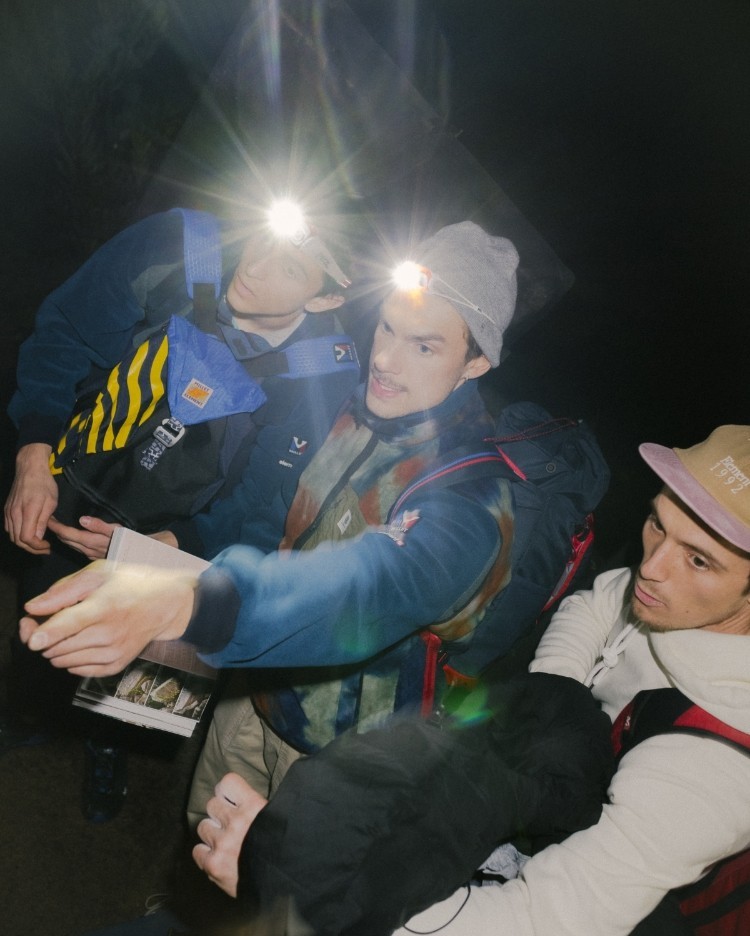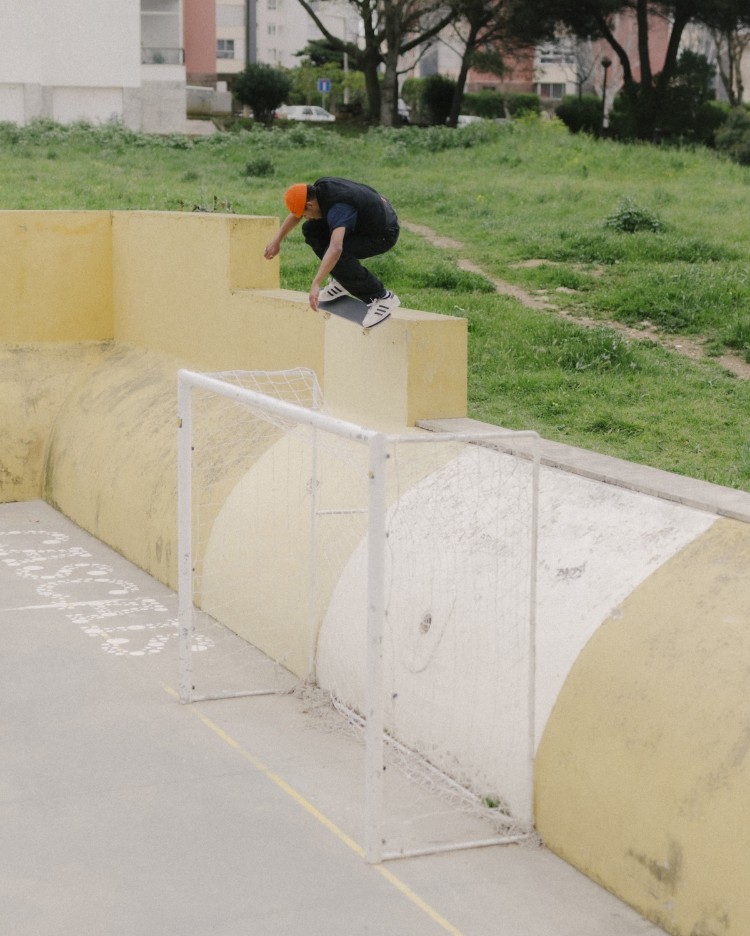 ">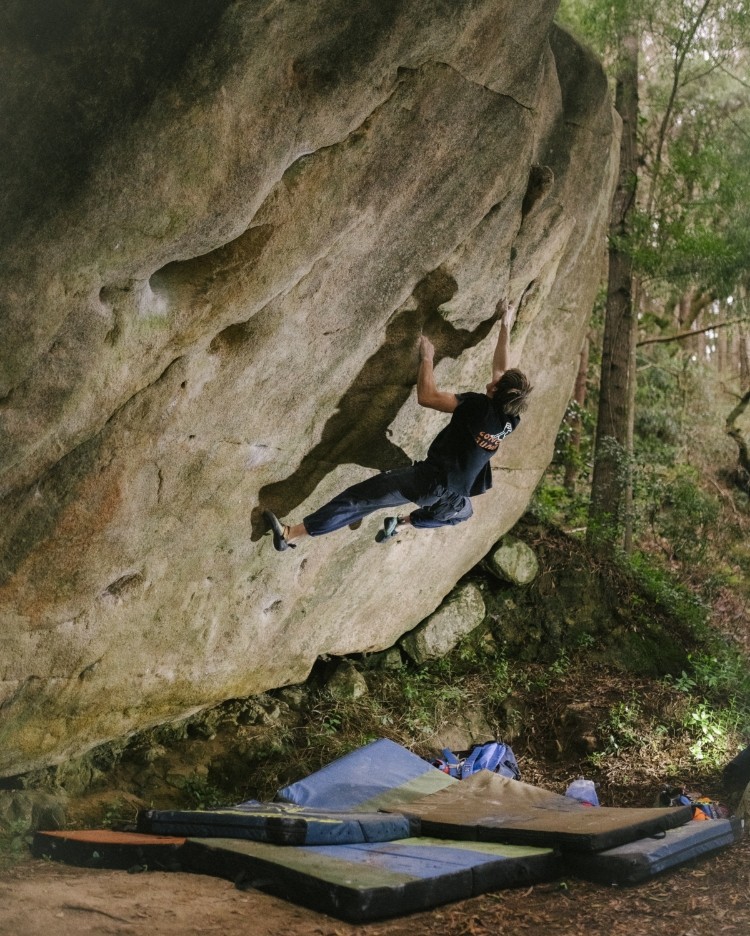 As First published in the Element x Millet issue of Place Magazine.
Words by: Roland Hoogwater
Welcome to this special Element x Millet issue of Place Magazine. To be frank, this piece of print is based around a trip we did to Lisbon, Portugal, and the greater area surrounding it. The reason for this excursion is a collaborative effort by both brands to show how close in experience the act of bouldering and skateboarding is. Now, those similarities will be shown throughout this paper collection as well as in the accompanying video pieces.
Besides the similarities, one could also focus on some of the differences for a minute. One would be that skateboarding is an activity mostly performed in human-shaped cityscapes, where bouldering is dominated by the hunt for stones shaped by God… or nature itself. Depending on your personal beliefs. One wonders what guided the water and sand to make these great shapes.
Truth be told, my own personal religious beliefs on this matter, do not, in fact, matter at all! In fact, I am here to do is guide you through the trees, up the mountains towards the stones. The things that I did during this trip range from, « Does anyone need a coffee? » I will go get it for you as well, « do you need skate spots? » I got ya! On tour, some do the dirty work so that the others can work their magic. One could argue managing a trip like this is very much like building an ecosystem. So, when it comes to our ecosystems, the climbers and skaters are similar.
Get up early, check the weather, eat stretch and get in the car. Ok, can you tell me was that the morning routine of a skateboarder or a boulderer? Hint, there is one pretty good giveaway in the little snippet of text.
On the gym habits of both, you could say this: most skaters train their bodies by the act of skateboarding. Nowadays through the introduction of the Olympic pathway, the personal coaching part has slid into our culture but only ever so slowly. Most skaters
don't think of reinforcing the muscles around their key joints, like ankles, knees and your body's core to prevent injuries or at least minimize the severity of them.
Whereas Millet athletes like Nils Favre, over the years, have trained separate parts of their body to perfection. In the Gym (boulder hall) he showed us what that meant by simply putting one finger on the wall and suspending his entire body weight on that small joint. Remember, my reading audience, the bones in your fingers are not much bigger than the little part of the skeleton you'll find in a buffalo wing at your favorite chicken spot.
Speaking about chicken spots, both sports do share a similar type of conviction. Both on the rock and on the board you are aware that you will take a fall at some point. Faith and commitment to oneself even more so than particular a particular body part play a seminal role in making it to the proverbial top. « Free your mind and the rest will follow. » If you « chicken out », or half commit you are more likely to injure yourself.*
To round things out, one simple sentence around the product Millet & Element made. Both activities require one to be able to move freely and comfortably. And what is more comfortable than some high-quality threads on your back whilst you are sweating through your undies trying to complete your line? Trust us, this shit protects you from most elements (no pun intended) we thoroughly tested them over the course of multiple days in usually cloudy and cold Portuguese weather.
Now flip this page Asap and start your journey into the boulder and skate worlds and, no, we are not talking Deawon Song here.
(*We don't hold any personal grudges against chickens or perceive their behavior as « weak.")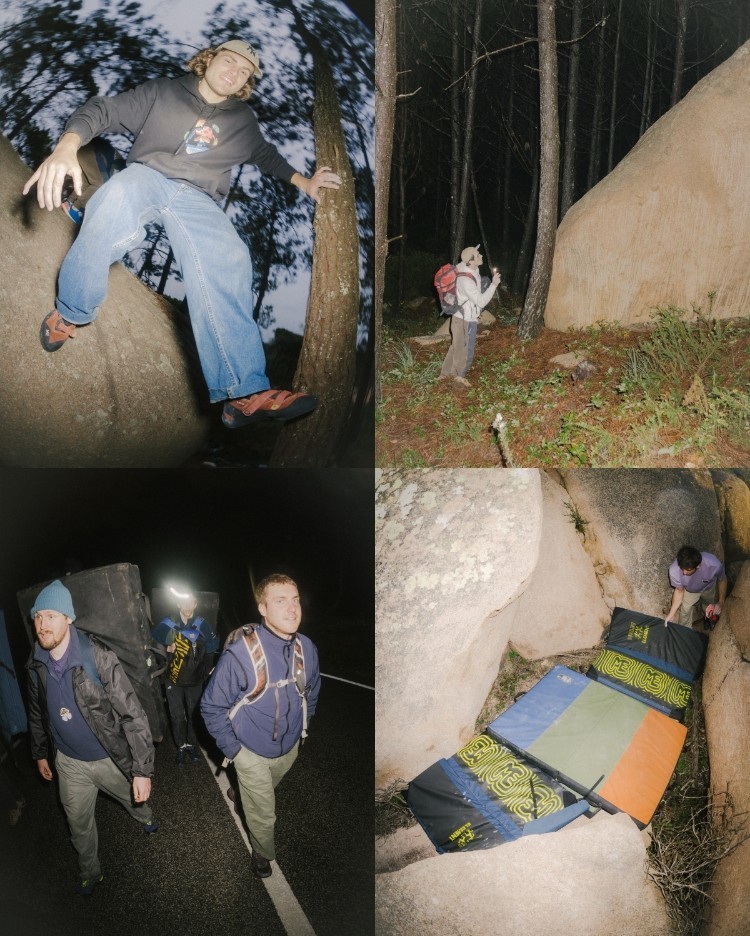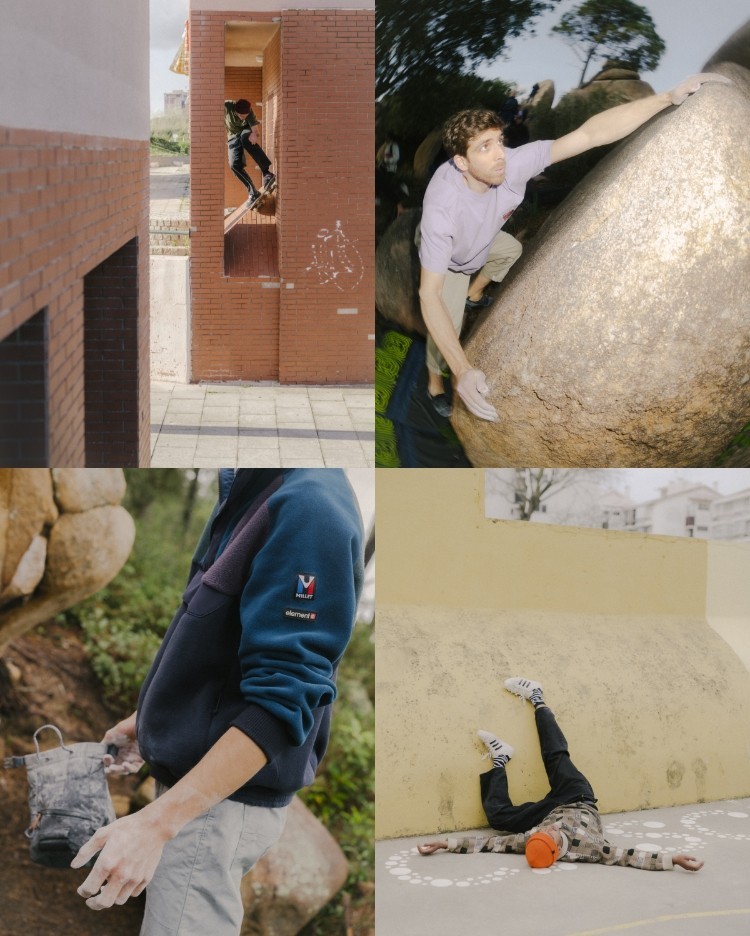 What is the longest you have ever searched for a spot/boulder?
Madars Apse (skater): Life is a long search, I don't really search for anything in particular. I just go into the city and look for something skateable.
Paul Jenft (climber): The spot I looked for the longest was a cliff near my house. I spent the afternoon without finding her and I had to come back a week later.
Maxime Verret (skater, climber & photographer): For boulder you generally have the most commons spots on topoguides so it's pretty easy to find, with my modest level I'm not looking for a crazy unknown line in the middle of nowhere. For skateboarding I would say a few hours, like a google street view scouting then a bike ride to see if the thing is skateable, then I could come back with the guys I wanted to shoot.
What is the longest amount of time you have tried a trick/boulder for? (hours, days, weeks, etc..)
Julien Bouthet (skater /climber): Boulder: weeks / Skate: years… still on process to get a proper back tail slide in a bowl :)
Nils Favre (climber): I think around 30 days trying the same boulder (500 tries). (this over 2-3 seasons) But I still have projects that I invest at least this amount of time and still didn't succeed.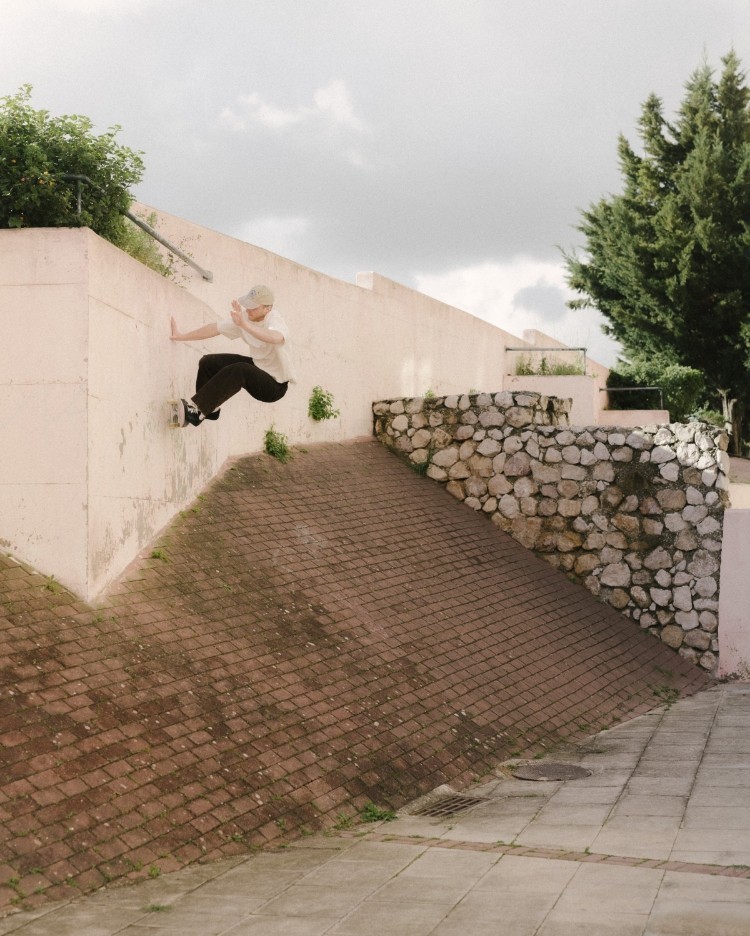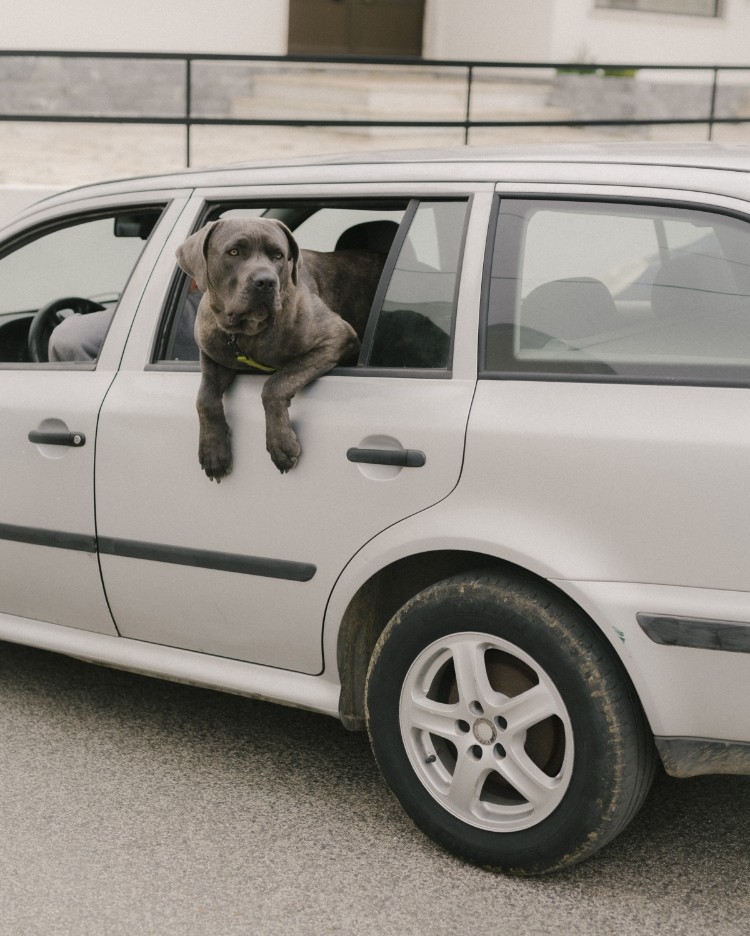 What piece of equipment are you most specific/nerdy about? (Shoes, mats, boards, etc…)
Maxime Verret: In both practices, a pants who you feel comfortable with is really important, but it's probably a skateboard fashionable occupational hazard!
What has been your worst injury?
Julien Bouthet: Boulder : finger scratch / Skate : multiple ankle sprain + elbow fracture
What is your favorite Boulder/skate related slang word?
Madars Apse: "Chillin"
Phil Zwijsen (team manager/skater): Banger
Mealys Agrapart (climber): La « lolotte », c'est classe, et j'aime bien le mot ahah (I would say "la lolotte" ( where you position your leg in a certain way to gain more leverage on a move). I love that word. )
Symon Welfringer (climber): It's mainly about cheering the others maybe : « Défouraille!!! » or « Concasse!!! ».
Paul Jenft: Before doing a run we say « aggressive » with my friends. It motivates us to grab the holds harder.
What do you hate the most about Skating/Bouldering process? (waiting, dragging around the mats, prepping the spots, etc…)
Conny Mirbach (skater & starting to boulder): Skate: Waiting for the weed situation to be clarified. / Boulder: Nothing so far.
Kukka Suvioja (skater): Waiting! My skating is at its best when I don't have to stop at all, waiting makes it difficult to focus.
What skill would you most like to borrow from a Skater/Boulderer?
Mealys Agrapart: La force dans les jambes. Et le style :) (something I would take from skating, the leg strength and of course the style)
How many people on a session is the perfect amount?
Jaakko Ojanen(skater): Depends, but like 10.
Music on a session or no music?
Leon Charo-Tite (skater): Rather not.
Maxime Verret: Music on a skatepark/gym session can be appreciate, but not on headphones, then if you are in the street or the forest the environment song is way more enjoyable!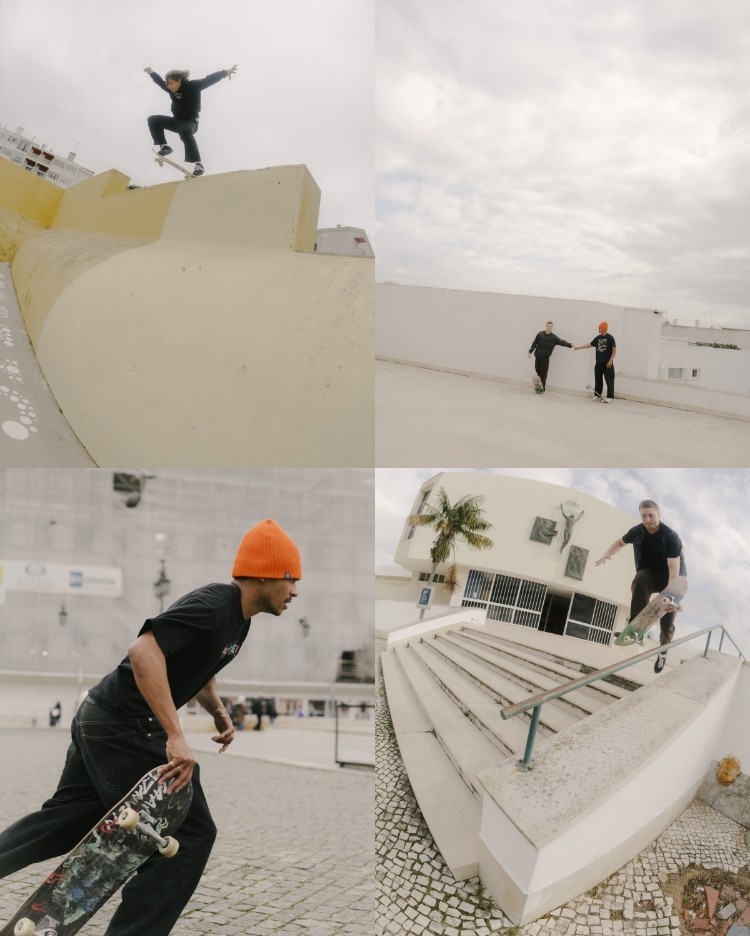 Favorite weather conditions to skate/boulder?
Nils Favre: Between 5 and 8 degrees, low humidity with a moderate dry wind in the shade! (with a nice sunny spot close by for breaks). I also absolutely love when I can remove snow from a boulder and I find the boulder completely dry below because it's too cold to melt: in general this means really good conditions! But I'm definitely a wind fan!
Phil Zwijsen: Dry, sunny, 24 degrees, a bit of wind.
Kukka Suvioja: 15c degrees and spring/autumn sun